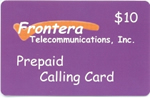 Frontera's prepaid calling cards offer convenient calling when you're away from your home or business, at competitive rates.
To order a Frontera prepaid calling card, please call 1-877-603-8540. Shipping via USPS first class is free to all domestic addresses. Frontera accepts Visa and MasterCard.
For important information about this service, please review its service guide.
Frontera Telecommunications Prepaid Calling Card
These cards feature no connect fees for domestic calls or monthly maintenance fee.
Rates and Surcharges
Interstate and intrastate calls: 10¢ per minute
Payphone surcharge: 50¢ per call placed at a payphone
Mexico: 20¢ per minute
Canada: 20¢ per minute
Rates for other International destinations
$1.99 connect fee on international calls (there is no connect fee for calls to Mexico)
All calls are billed in one (1) minute increments
3% Federal Excise Tax, the appropriate state sales tax, and 9.5% Federal USF, based on the face value of the card, will be charged to the card the first time the card is used
Cards expire one (1) year after first use, or 18 months after purchase, which ever occurs first