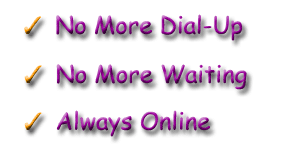 Residential and Business Wireless Pricing:
| | | |
| --- | --- | --- |
| Plan | Min/Max Speed | Monthly Charge |
| Basic | 128k/256k | $24.95 |
| Bronze | 256k/384k | $48.95 |
| Silver | 384k/512k | $73.95 |
| Gold | 512k/768k | $94.95 |
| Platinum | 768k/1024k | $159.95 |
| Titanium | 1024k/1500k | $199.95 |
Download Applications Here
There is no Setup Fee. These rates are guaranteed for a full year. All Service Plans require a one (1) year contract. Installation includes one computer connection with entry through an outside wall. Interior cabling through attic and down interior wall will be charged at a rate of $35.00 per hour. Customer is responsible for providing each computer Network Interface Card (NIC). If a wireless amplifier is required, the customer will be billed an additional one-time charge of $299.00.
Wireless Account Includes:
Support for one computer (additional computers at an additional charge)
24/7 Internet Access
2 email accounts with 10MB storage each (additional email accounts can be setup at a cost of $2.00/Month each)
Static Public IP address unless behind a router
Personal web site (maximum of 10MB)
Router/Switch if you do not have Windows XP or connecting more than one computer
Spam Guard guaranteed to catch 99.9% of Spam
Professional Installation Includes:
Outdoor antenna/bridge
Cabling for one computer through an outside wall
Installation and configuration of Network and email services
NIC card if customer is not able to produce one during installation at a cost of $35.00 each
Service Coverage:
Want to make sure that you are able to recieve our singal. Then go here and we will check for you.